Realty Quest – CT Real Estate
Home
CT Real Estate Professionals
Call us toll free at 800-656-4993
RealtyQuest takes pride in its track record of successful real estate listings and sales in Connecticut.
RealtyQuest's rental specialists provide expert real estate guidance for Connecticut landlords & tenants.
For All Your Real Estate Needs...
If you are looking for Connecticut real estate information you have come to the right place! Realty Quest agents focus exclusively on CT real estate of all types: single family, multi family, condominiums, apartments, investment property and land for sale.
Connecticut Market Trends Category
The Spring real estate market has continued to improve, with 18 sales in the month of April, 4 more sales than in April of 2012. The most active price range was $1,500,000- $2,000,000 with 5 properties sold. The dollar volume of sales for April 2013 ($27,402,500) is significantly higher than April of 2012 ($17,239,500). Sold Properties Price Address DOM Highest Sale Price $2,975,000 42 Wee Burn Lane 522 Lowest Sale...
It was a mixed bag for Shelton CT home sales statistics for March 2013.  Closed sales INCREASED 47% as compared to the same period last year.  Average list and closing prices both decreased 5% respectively and the median went up 2%. Days on the market went DOWN 14%. Market absorption for the month registered at 6.27 months, meaning it would take 6.27 months to sell off the...
There are just not enough superlatives to describe this sensational Shelton CT colonial just listed for sale. Gorgeous, outstanding, and breathtaking are just a few. Custom designed and built with over 5,500 square feet of living space on three levels, 5-6 bedrooms and 6 bathrooms, this beautiful home also boasts a PRIME location in the Huntington section of Shelton CT. The showstopper...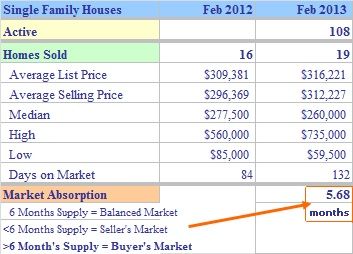 Shelton CT home sales for February 2013 showed a 19% INCREASE in sales from the same period last year.  Additionally, average list and closing prices both INCREASED 2% and 5% respectively from February 2012 results. Days on the market went up significantly at 57%, with a few significant outliers which brought the average up. Market absorption for the month registered at 5.68 months,...
What should sellers leave behind for the new homeowners?  Well, most important, anything included in the contract like appliances, window treatments and lighting fixtures.  However, outside of the contract, there are other things to leave behind. I have been using the list below for some time and it has always worked out well as it kept sellers more organized by eliminating...
This house is a HOME in every sense of the word. When you enter, you will experience its warm and appealing personality. Located in the Huntington section of Shelton on a beautiful .74 flat acre, it also offers the added value of being situated at the end of a quiet cul-de-sac. Listed for $349,900 For more information and photos on this...