Realty Quest – CT Real Estate
Home
CT Real Estate Professionals
Call us toll free at 800-656-4993
The Trumbull CT real estate market report for December 2012 showed a  9% increase in sales over the same period last year, with listing and sales averages both INCREASING 4% and 2% respectively  as compared to December 2011 sales figures.  Days on the market went DOWN 5% AND market absorption came in with a 4+ month supply of homes…. seller's territory.
Can't wait to see what's on 'sale'?
Moving forward, there are 17 homes under deposit and 53 pending home sales.
Homeowners, if you are thinking of selling, take advantage of a complimentary FREE market analysis on your Trumbull home today. Trumbull NEEDS INVENTORY!! Now is the time to get a well prepared, well priced home on the market!
The sweet spot for sales in December 2012 inched back into the $300K-$400K range, which is typically the most popular range for Trumbull.  If you're selling or thinking of selling in the higher volume ranges, prepare your house well, get it marketed to the max (I can assist with that!) , and buyers will be knocking on your door!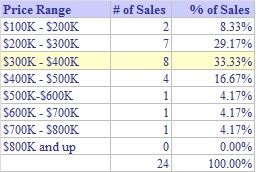 What houses attracted buyers and sold in Trumbull CT in December 2012?
Trumbull CT December 2012 Property Transfers
(as recorded in the Greater Fairfield County MLS as of January 14, 2013)
The absorption trend, which shows the number of months it would take to sell the entire inventory at the same pace, came in at 3.83 months for the last three months. This is the SEVENTH month in a row in seller's market territory in the trend analysis.
This absorption rate is calculated on all price points. If you are selling your home, your agent should calculate the absorption rate trend for your price point to get a more accurate analysis. 
While the December results were positive as compared to December 2011 results, there is a glaring drop in sales from November to December 2012. So, let's go back to that very high number of sales in November.
Many of the end of October closings were affected by superstorm Sandy and the subsequent power outages causing business delays. Additionally, some properties required an additional appraisal prior to closing to verify property integrity. Thus, many end of the originally scheduled October closings were pushed into November. 

The success in selling your house in TRUMBULL or any other community is dependent upon accurate pricing, effective staging, absorption rate for your particular price point, and having a strong online marketing presence. A house will sell if there is a synergy among all four.
CONTACT ME for advice on how to LIST, MARKET, and SELL your home effectively in today's market. All agents do not provide the same marketing services.
Date Source: Greater Fairfield County Multiple Listing Service –January 14, 2013. No representation or warranty is made to the accuracy of this information.
Related posts:
Previous Trumbull CT market reports
Living in the Tashua Section of Trumbull CT
Trumbull CT Tashua Golf Courses 'FORE' All Skill Levels
Trumbull CT Real Estate Market Report and Homes Sold December 2012
Website ~ Blog ~ Twitter ~ LinkedIn ~ Google +
Facebook ~ SheltonBuzz
Facebook – Barbara Altieri Page
Facebook – RealtyQuest Page
Leave a Reply